The IPL 13th season has begun. The first match was played between CSK and MI on 19th September. All the seven teams have finished their first game other than KKR.
Kolkata Knight Riders are going to play their first IPL 2020 match on 23rd September. They are going to compete against the reigning champion, Mumbai Indians. The match will be played at Sheikh Zayed Cricket Stadium in Abu Dhabi.
The Glorious Welcome:
While MI has already played the first match, KKR is going to play for the first time.
So in order to welcome the team, Burj Khalifa was lit up. It is the tallest building in the world. It was a wonder to see the tallest building in the world lighting up KKR colours.
It was a beautiful sight to welcome the team. It was not only an act of welcome but an act of support as well. Dubai wishes good luck to KKR on their first match.
As we all know, KKR is owned by none other than Shahrukh Khan. The Bollywood actor is not only famous in India but has an extremely strong fan following in UAE. It was an endearing act by Dubai.
It was an LED light display. The colours were similar to KKR jerseys. Lights displayed a beautiful purple hue in the sky. This event took place on Tuesday evening.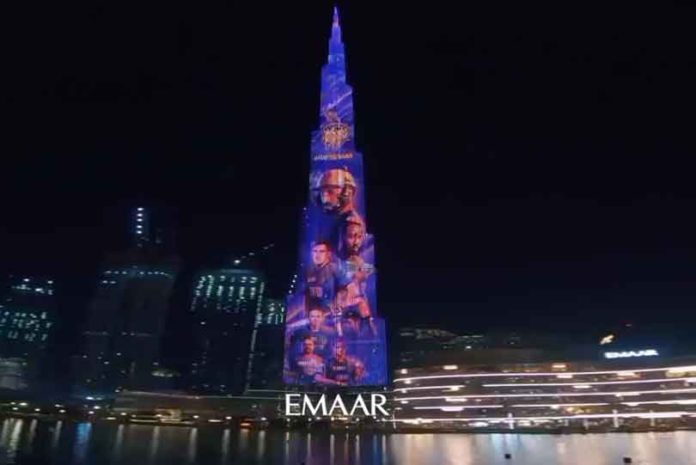 KKR Tweet:
KKR used their official Twitter account to thank Burj Khalifa for the warm welcome and good wishes. They called it a "curtain-raiser". They also stated that KKR would stop at nothing and keep moving towards the top position. The team looks pretty confident. Along with the message, they shared a short video of the event.
KKR vs MI Match:
KKR will clash with MI for the first time in IPL 2020. While MI have won a total of 4 IPL seasons, KKR holds the record for 2.
KKR captain Dines Karthik has to work really hard to win the match against MI. MI have won a total of 19 matches out of 25 against KKR.
However, KKR is very confident this year. They have the slogan called "KKE HaiTaiyaar". They have strong players like Sunil Narine, who is an amazing bowler. Then they have Shubhman Gill, who is a wonderful batsman. Both these players are going to play on Wednesday.
Batting Side:
KKR have strong players this year. This year, they have Tom Banton. He is an English batsman with outstanding stats. His strike rate is 154.16.
Then, there is Nitish Rana, Shubhman Gill and Andre Russell. On the batsman side, they have Rahul Tripathi as well. It looks like KKR have a strong batting side.
Bowling Side:
On the bowling side, they have Narine. He is a consistent player in KKR. Pat Cummins is also going to play with KKR this year. This is his first year with KKR. He is the costliest IPL player of the year. They also have Kuldeep Yadav.
Ali Khan is another addition to the team. He is more like a surprise package. He is a decent bowler.
Mumbai Indians lost their first IPL match. This is the second match they are going to play. They have a strong batting and bowling side. However, they need to work on their fielding. If KKR plays all the cards right, they can come off victorious.