In the recent Royal Challengers Bangalore vs Mumbai Indian IPL match on 29th September, Washington Sundar proved to be one of the best IPL bowlers.
IPL is a game of power play. Players don't play safe like test matches but start scoring runs from the beginning. In a batsman dominated gameWashi's bowling made a huge difference.
The game between RCB and MI was like a thriller movie which ended up in a tie. If it wasn't for Washington Sundar, RCB might have lost the match against MI.
Washington Sundar:
He is an Indian cricketer who plays for Royal Challengers Bangalore. He is an All-rounder but mostly bowls for RCB. He started playing for Tamil Nadu and reached the IPL team. Before RCB he played with Rising Pune Supergiant in 2017 IPL. In 18 matches he managed to take 30 wickets.
Performance in Match against MI:
On 28th September, RCB played against MI. It was an epic match. The match ended up in a tie. However, RCB outperformed MI in the super over, thereby claiming another victory.
However, the biggest highlight of the match was Washi's performance. He was given a four-over quota in the match. He bowled three overs and gave only seven runs to MI. That means in 18 balls; MI managed to score only seven runs. On top of that, he also managed to take down Rohit Sharma in those three overs. It was the biggest achievement for RCB. Rohit Sharma is one of the most powerful MI batsmen. If he had survived for a few more balls, the match wouldn't be a tie. In his last and 4th over, he again put a spell on MI and gave them merely 5 runs. Here are the stats,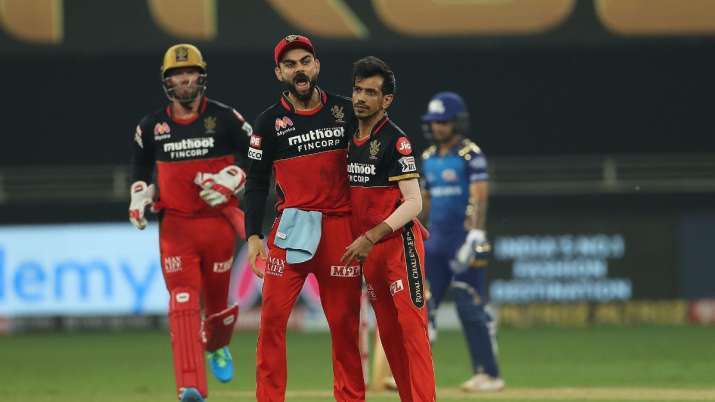 Over: 4
Runs: 12
Wickets: 1
Well, all the credit goes to Washington. At the mere age of 20, he proved to be one of the greatest assets RCB possesses.
Ravi Shastri's Praise:
Looking at Washi's amazing performance, Ravi Shastri took it to Twitter to praise the young off-spinner.
He praised him saying that in a batsman's world Washi's was one of the best performances in IPL so far.
As we know in IPL batsman dominate that game. There has been a record of scoring nearly 400 runs in just 20 overs. The batsman plays offensive from the beginning. There is no room for defensive play. However, Washi proved it otherwise.
Match Result:
In the match between RCB and MI, RCB went to bat first. The Virat Kohli led team managed to score 201 runs in 20 overs losing only three wickets. However, MI managed to give them a tough competition.
After losing Sharma and losing too many overs because of Washi, they broke the spell. Ishan Kishan and Pollard managed to score 89 runs in just five overs. However, the match was a tie.
In the super over, Virat Kohli and AB de Villiers chose to bat. Kohli chose Navdeep Saini to bowl. He gave only seven runs to MI while RCB scored more runs.