Soon to be a mother, Kareena Kapoor turned 40 on 21st September. Being the glamorous Bollywood actress she is, her birthday celebration took the internet by storm.
While some people admired her simple yet elegant dress, other people praised her natural beauty.
She started celebrating her birthday early from Sunday midnight. And after that, there were other series of celebrations.
Bebo kept the celebration simple which included only close family members. Her family shared a few pictures of the celebration.
Although it was a close knit-celebration, there are various highlights of the event.
Highlights of Kareena Kapoor's Birthday:
There are many things which we can't miss. And one such thing is Kareena's love for Kaftans.
It seems like the actress is obsessed with it. Apart from the attire, there are many other highlights.
Mint Green Kaftan: 
She celebrated her birthday at home wearing a beautiful yet comfortable mint green Sana Kaftan. It was balloon-sleeved. There were floral prints on it along with a tie.
It was designed by Anita Dongre. Karishma Kapoor shared two beautiful pictures of the birthday girl wearing this Kaftan5. She was sported without any makeup and accessories.
One was a solo picture with a fabulous 40 cake. Another was a family picture. The Kaftan she wore cost around Rs.19,900.
Wonder Woman Cake:
If you think, there was just one celebration, you are wrong. There was another birthday celebration where the actress was seen cutting a Wonder Woman Cake.
Seems like, Kaftan is not the only love Kareena shares. During this celebration, she wore another beautiful dress. This one was designed by Masaba Gupta. It was a white floral off-shoulder dress. The price of the dress is Rs.19,000.
She looked gorgeous in the dress in her makeup-free look. The hue of the candlelight made her face glow with her natural beauty.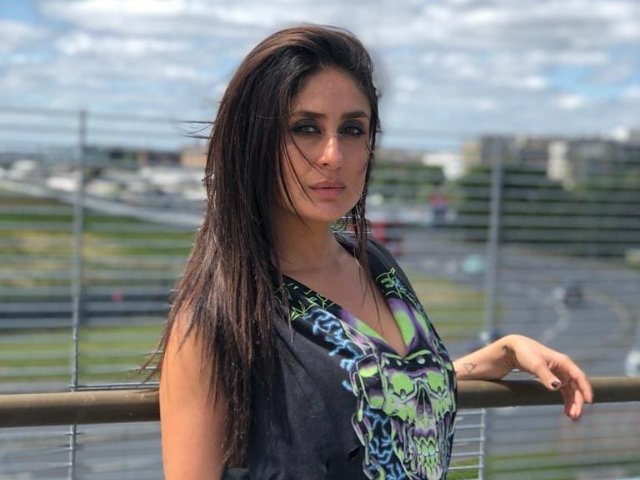 Birthday Party Groove:
Apart from the two celebrations, there was another celebration. Apparently, Bebo knows how to party. During the party, she wore a spaghetti strap black dress.
In a recent video, she was seen dancing at the party. The song in the background was "Don't Stop Me Now". You could sport friends and family in the background. There were two lit candles in her hand. She was seen enjoying her party.
Birthday Wishes:
Many famous celebrities came forward to wish the actress on her birthday. Her father and sister took their wishes to Instagram. Karishma Kapoor shared their childhood picture with a caption that she will always protect her.
Akshay Kumar shared a photo along with a birthday message. Priyanka Chopra also wished her on Instagram. Katrina Kaif and AnanyaPanday also wished her. Kajol also shared a message on social media and congratulated her for the second child.
Instagram Post:
Bebo took to Instagram to share a picture and message. It was her selfie, along with a beautiful message. She says that she just wants to relax and pray and stay strong. She shows her gratitude towards life.
Kareena Kapoor and Saif Ali Khan are expecting their second child. They are happy and ready to welcome the newest addition to the family.
You can see her glow up in her birthday pictures. She looks happy and content with her life.