Behold! The waiting period is over! Now, we can finally enjoy watching IPL Season 13 from 19th September onwards.
IPL which normally takes place in March ending was rescheduled due to Covid-19. Diehard IPL fans have been eager to watch their favourite teams play and root for them.
Finally, after five and half months of silence, IPL Schedule was announced on Sunday. This year the T20 League will take place in UAE instead of India due to safety protocol.
Although we can't go to the stadium to enjoy the match, we can surely watch it live from our home.
IPL 2020 Venue:
In UAE, the matches will take place in three venues, i.e. Dubai, Sharjah and Abu Dhabi.
Dubai: 24 Matches in Dubai International Cricket Stadium
Abu Dhabi: 20 Matches in Sheikh Zayed Cricket Stadium
Sharjah: 12 Matches in Sharjah Cricket Stadium
IPL 2020 Match Timings:
It will be mostly single matches and ten doubleheaders. The doubleheader will start on 3rd October.
Evening Matches: 7.30 PM IST and 6.00 PM UAE Time
Doubleheader Matches: 3.30 PM IST and 2.00 PM UAE Time
First Match (Tournament Opener):
Date: 19th September
Day: Saturday
Time:7.30 PM IST and 6.00 PM UAE Time
Venue: Abu Dhabi (Sheikh Zayed Cricket Stadium)
Team: Mumbai Indians vs Chennai Super Kings
Second Match:
Date: 20th September
Day: Sunday
Time: 7.30 PM IST and 6.00 PM UAE Time
Venue: Dubai (Dubai International Cricket Stadium)
Team: Delhi Capitals vs Kings XI Punjab
Third Match:
Date: 21st September
Day: Monday
Time: 7.30 PM IST and 6.00 PM UAE Time
Venue: Dubai (Dubai International Cricket Stadium)
Team: Sunrisers Hyderabad vs Royal Challengers Bangalore
Fourth Match:
Date: 22nd September
Day: Tuesday
Time: 7.30 PM IST and 6.00 PM UAE Time
Venue: Sharjah (Sharjah Cricket Stadium)
Team: Rajasthan Royals vs Chennai Super Kings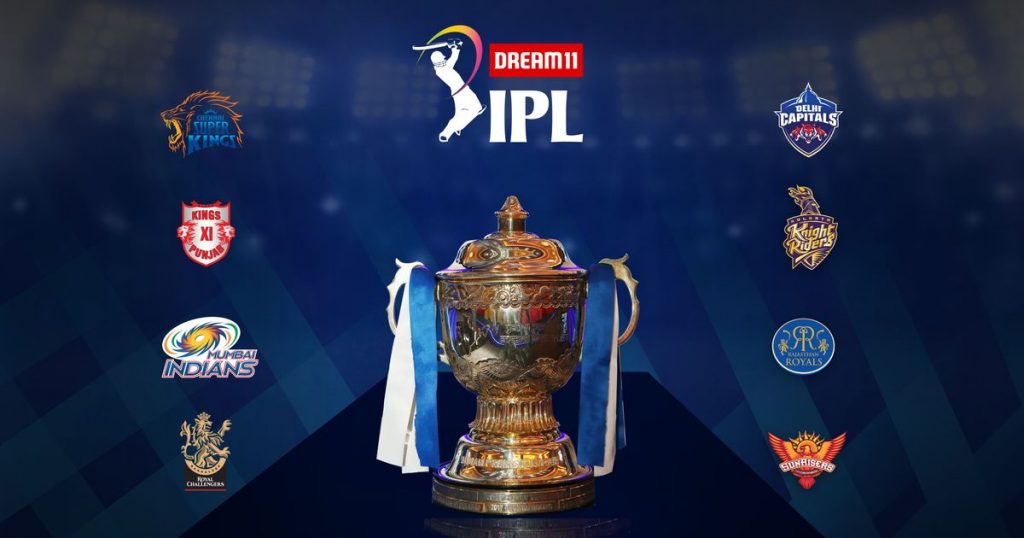 IPL 2020 Teams:
There will be eight teams playing in the IPL 2020 season.
| | | |
| --- | --- | --- |
| No. | Team | Captain |
| 1. | Chennai Super Kings | MS Dhoni |
| 2. | Delhi capitals | Shreyas Iyer |
| 3. | Kings XI Punjab | KL Rahul |
| 4. | Kolkata Knight Riders | Dinesh Karthik |
| 5. | Mumbai Indians | Rohit Sharma |
| 6. | Rajasthan Royals | Steve Smith |
| 7. | Royal Challengers Bangalore | Virat Kohli |
| 8. | Sunrisers Hyderabad | David Warner |
IPL 2020: Most Expensive Players:
KKR Squad: In the 2020 auction, KKR paid $2.2 million for Pat Cummins.
CSK Squad: Piyush Chawla is the costliest Indian player in 2020. CSK paid $950,000 for him.
IPL 2020: Who Will Not Play?
There are few well-known players who will not appear in this IPL season. The players are as follows.
Suresh Raina
Harbhajan Singh
Jason Roy
Kane Richardson
Lasith Malinga
IPL 2020: Expected Winner:
Even though the matches haven't started yet, people have started predicting the winner. In 2019 Mumbai Indians won against Chennai Super Kings.
However, this year, people are still rooting for MI. As per the predictions done by the people, MI has the highest chances of winning this IP season, followed by SRH and CSK.
MI: 16.9% Chances
SRH: 16% Chances
CSK: 15.08% Chances
As of now, we can trust these predictions. IPL has always been dynamic; the winners change every year. This year, the teams will play on the foreign ground, which can be beneficial for some players.
So anything can happen. It is safe to say that IPL season 13 is going to be one of the best and unexpected season so far.