On 30th September, Kolkata Knight Riders defeated Rajasthan Royals in Dubai and claimed the 2nd position in the points table.
Rajasthan Royals have been playing consistently well without losing a single match. However, the recent defeat made them drop down in the points table to the 3rd position.
Kolkata Knight Riders lost the first match against Mumbai Indians but soon improved their performance, thereby claiming two consecutive victories.
Rajasthan Royals is one of the strongest teams in the 2020 IPL. They have played three matches as of now and lost only one. If they have won this match, they could have easily reached the first position in the table.
KKR vs RR Match Highlights:
Many events took place in the IPL match between these two teams from the controversy related to Robin Uthappa to Sachin Tendulkar's tweet. Here are all the highlights of the match.
Shahrukh Kahn and Family Watches the Match:
The biggest highlight of the match was SRK who came to support the KKR boys. He is the co-owner of the team. He sat in the VIP section with his wife and son.
Sachin's Tweet:
After KKR's amazing performance, Sachin took it to Twitter to congratulate and praise the team. He called out Shubman Gill, Russell, and Morgan on their amazing performance. SRK retweeted it and said that he has nothing left to say when Sachin has already said everything.
Uthappa's Fault:
During the match, Robin Uthappa accidentally applies to spit on the ball. As per the ICC rules, it is a violation. A player cannot apply spit on the ball due to safety issues.
Score:
Kolkata Knight Riders (Winner):
Runs: 174
Wickets: 6
Over: 20
Rajasthan Royals:
Runs: 137
Wickets: 9
Over: 20
Rajasthan Royals lost the match by 37 runs.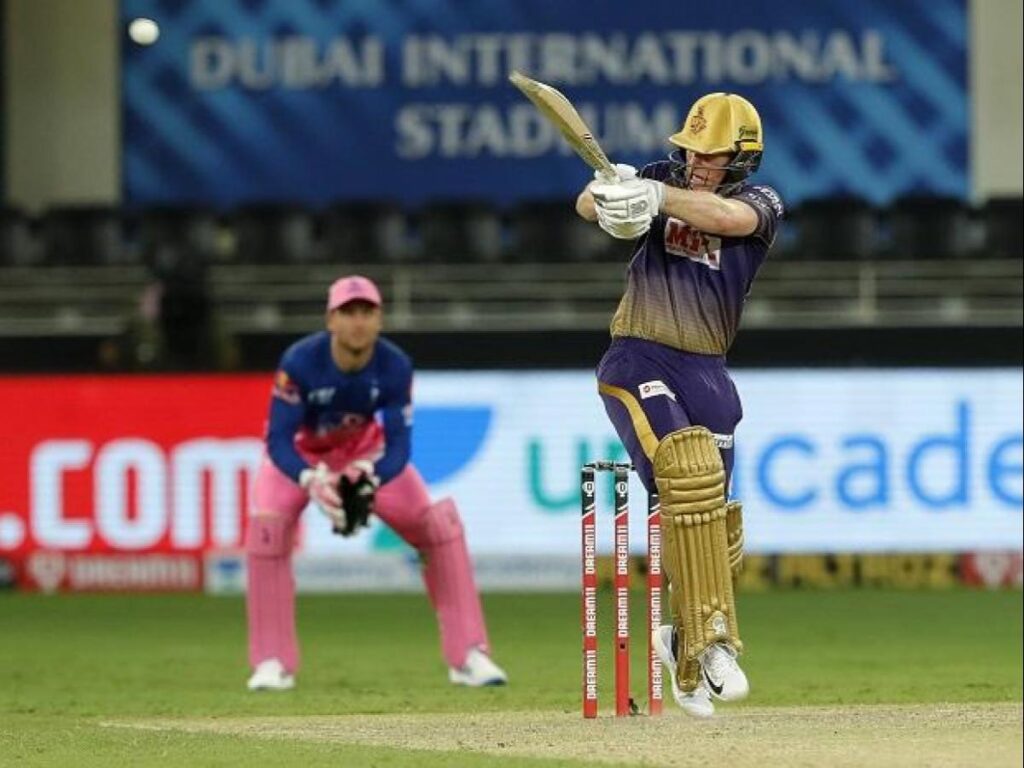 Toss:
Rajasthan Royals won the toss and chose to bowl first. KKR accepted and went to bat first in the Dubai Cricket Stadium.
Opening:
Shubman Gill and Sunil Narine went to open for KKR. On RR's side, Jofra Archer was chosen to bowl first. KKR started playing slowly in the beginning to save them wickets.
First KKR Wicket:
During the 5th over, KKR lost their first wicket. JaydevUnadkat takes Narine's wicket. At that time KKR's score was 36 runs and one wicket.
KKR Loses Rana:
Rahul Tewatia gets rid of Rana, thereby making KKR lose their second wicket during the 10th over. At that time, their score was 82 runs and two wickets.
Shubman Gill Walks Away:
Shortly after KKR lost their 2nd wicket, Archer who went bowling the first over gets rid of Shubman Gill. He did it during the 12th over. The score was 90 runs and three wickets.
Wicket after Wicket:
KKR loses wicket after wicket in the 14th, 15th and 18th over. In the 14th overs, they lost Dinesh Karthik. In the 15th over they lost Russell. In the 18th over the lost Pat Cummins. They scored 149 runs and lost six wickets.
Final Score:
KKR doesn't lose any more wickets. At the end of the 1st innings, their final score was 174 runs over six wickets. RR has to score 175 runs to win.
5 Overs:
During the time of the fifth over, RR scores 36 runs and loses two wickets. Steve Smith goes first followed by Sanju Samson.
10 Overs:
At that time RR's score was 61 runs and five wickets. They lost three more wickets. Buttler goes first followed by Uthappa and Rahul Tewatia.
20 Overs:
Rajasthan lost nine wickets and scored only 137 runs. They lost the match by 37 runs.